Our Kids Martial Arts Classes Include BJJ, Muay Thai, And More!
At Infinity BJJ, we are proud to work with students from all across Santee and El Cajon, offering a high-energy Kids Martial Arts program that has something for all ages and interests. Our training includes professional instruction in the arts of Muay Thai, Brazilian Jiu-Jitsu, and sport-style Wrestling. We tailor every session to meet the needs of all experience levels.
Learn more today by simply filling out the short form on your screen.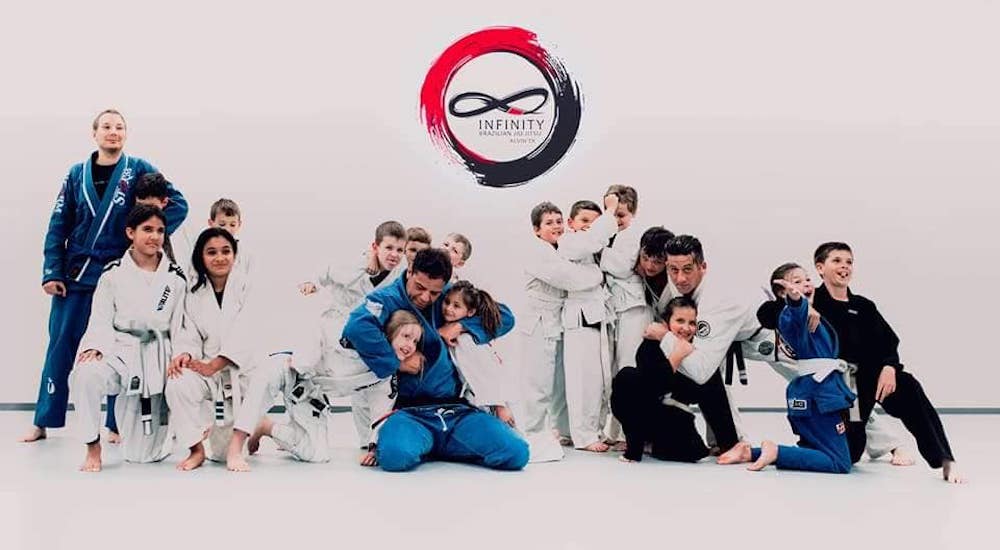 Why Is Our Kids Martial Arts System Right For Your Child?
We're working hard to push beyond the limitations of cookie-cutter martial arts training. Rather than focusing solely on traditional disciplines like karate or taekwondo, we offer students the chance to find the discipline they like best.
At Infinity BJJ, your child will have the chance to take on some of the world's most popular disciplines and enjoy professional instruction on the path to well-rounded skills. Our Kids Martial Arts classes here in Santee include:
Kids Brazilian Jiu-Jitsu: This ground-based discipline is perfect for students of all skill sets. We focus on ground control and leverage while offering students a step-by-step approach to timing, technique, and body positioning. Our BJJ classes can help your child develop:
Coordination and body control
Mobility and flexibility
Strength and stamina
Kids Muay Thai: Muay Thai teaches you how to use every limb of your body to strike an opponent and stay out of harm's way. We offer students the chance to learn lightning-quick punches, kicks, and defensive strategies. Your child can take on:
Incredible athleticism
Well-rounded speed and strength
Effective bully prevention skills
Wrestling: Our Youth Wrestling program is the perfect way to introduce young students to the world of sport-style ground fighting. We'll start with the basics of positioning and leverage before moving on to point-based strategies and submission skills. We're offering students the chance to take on:
Locks and holds from any position
Defensive maneuvers to regain control
Proven submission skills to help you come out on top
PLUS, All Of Our Kids Martial Arts Classes Focus On Vital Life Skills That Can Serve Your Child For Years To Come!
We know how much our students love challenging themselves and showing off their new skills. But we also know that you're looking for a whole lot more in your child's development that just physical success.
That's why our Kids Martial Arts program focuses on setting students up for well-rounded success. We want our students to be confident and respectful and disciplined in everything they do.
At Infinity BJJ, your child will have the chance to take on:
Focus and attention to detail
Unwavering self-confidence
Leadership and teamwork skills
Perseverance in the face of any challenge
Get Started Today With The Best Kids Martial Arts Classes In Santee And El Cajon!
If you're ready to set your child up for success and help them have fun challenging themselves every single day, come see us here at Infinity BJJ in Santee today. We're proud to work with students of all ages and experience levels and we can't wait for your child to get started.
Learn more about our Kids Martial Arts classes today by simply filling out the short form on your screen!